Find Your Calm. Find Your Focus.
Memorial Private School is an accredited life and college prep private school for grades 6-12, located in West Houston. Call now to begin your journey! (281) 759-2288
By employing a high outcomes approach based on research, our teachers are responsive to a variety of learning styles. From the average, to the gifted, students with mild to moderate learning differences, Memorial Private School could be the ideal fit for you teen.
Are you seeking a private school in Houston, where students take ownership of their education? A place where your teen can prepare for life and college? A caring and nurturing educational experience?
Both a life and learning experience, Memorial Private School is a leading innovator in establishing highly innovative educational standards and practices. By providing a robust program with a balance between peer group learning, self-paced learning, individualized instruction, and discussion, students become more engaged in the learning process.
Memorial Private School is a cozy, unique gem of a private school tucked in West Houston. The teachers and staff have a passion for teaching and helping your child succeed in the next chapter of their lives: college and life. — Marlena, Parent
High Outcomes. Low Stress. Re-Inventing Education.
In our work with universities and companies, students adopt a growth mindset as they work on research projects and acquire real-world skills.
Recent research projects include: Trout in the Classroom, Identity Development Study, Parent-Child Mentalization Study, and the BrainCo FocusCalm Neurofeedback Study.
Our innovative educational methods and approaches have opened up a rare opportunity for our students to benefit from neurofeedback through the FocusCalm Neurofeedback Study. Incubated in the Harvard Innovation Lab, BrainCo develops cognitive training technologies.
At Memorial Private School, we use their FocusCalm phone app and headband to help students learn how to train their brains to move into a state of calm and sharper focus.
Based on neuroscience research, we have intentionally created a low-stress learning environment for college prep students or students pursuing other future paths.
From the caring faculty, friendly students, strong focus on compassion, it is no wonder students find a sense of place at Memorial Private School. Students ease up on themselves, lower their stress, alleviate anxieties, and flourish. Small structured classes, individualized support, and peer group learning create a relaxed place for students to mature intellectually, socially, and spiritually in our microschool environment.
10 Reasons to Choose Memorial Private School
Personalized Approach Tailored to Your Child
Small Classes to Stimulate Learning and Engagement
Technology Integration to Inspire Students to Stay Current
Interactive Research Projects to Ignite Engagement
Community Orientation to Get the Whole Family Involved
Philosophical Framework to Provide Structure and Purpose
Peer Mentorship to Inspire Students to Serve and Help Others
Broad Life Experiences to Develop Body, Mind, and Spirit
Low Stress to Accelerate Learning and Personal Development
Traditional Values to Help Teens Develop Good Character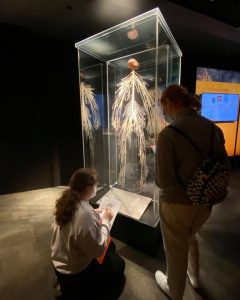 Explore and Experiment!
Unlike many independent college prep private schools, Memorial Private School offers both a life and college preparatory education for middle and high school to build confidence and social interaction skills.
As pioneers in the creation of our microschool, we have built an infrastructure to facilitate and cultivate healthy social interaction in the classroom setting.
We offer a full academic year program, as well as summer classes for college-bound students. While some students aspire to attend a college or university following high school, other students make different choices.
While the priority for some students is to work on improving their grades, to gain membership into the National Honor Society, and even take Advanced Placement (AP) or Honors Courses, we understand this path is not for every student.
For this reason, we emphasize a wider perspective, one that incorporates life preparation. Our students adopt a growth mindset as they learn to research, explore, experiment, and become lifelong learners.
Students acquire the skills to lead, work in teams, communicate effectively, manage their time effectively, set goals, and become independent and responsible individuals.
Our traditional values help students strengthen their character, so they are equipped to navigate life with a sense of purpose and meaning.
I have never had high grades like this before. My parents are so proud of me being an "A" student and I am proud of myself for working so hard. — Vivian, Student