Create Your Roadmap this Summer
Summer class? Summer school classes for credit or enrichment at Memorial Private School are the most popular choice throughout the Spring Branch ISD and all of Houston. Ranked in the Top 20 Best Private Schools in Houston!
Top-notch faculty committed to every student's academic success and future goals.
High outcomes learning environment due to our highly individualized teaching method and specialized curriculum.

Students are always respected at Memorial Private School and the tone is very positive, friendly, low-stress, and supportive.

No need to worry about missing classes. We will work with your schedule.
Questions? Contact us now.
Flexible Classes – Summer School Options
Traditional – We offer in-person core and elective credit classes on campus.
Satellite – We also offer classes by remote with support sessions included.
Summer School Classes Transfer Easily!
Standards:Texas Education Agency (TEA)
Accreditation: Cognia/SACS/AdvancED
4 Reasons to Choose Memorial Private School
Are you limited by summer classes at your current private or public school?

Are you looking to graduate early or need to enhance your college applications?

Are you a middle school or high school student seeking credit or enrichment?

Are you considering Memorial Private School for the fall and want to gain a better understanding of what we have to offer?
If you responded "yes" to any of the above questions, Memorial Private School is the perfect fit for your summer school experience. Get the attention you need to succeed!
It's Easy to Register and Enroll!
Download the application (top/right) and follow the instructions.
Frequently Asked Questions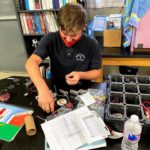 Follow this Simple Checklist
Check out classes (blue button at top of page)
Fill out the form and bring it to your school
Ask your school counselor to sign off
Mail or drop off the form with payment