Private School Creates Access and Affordability
It is one of our tenets at Memorial Private School to be one of the most affordable private schools in the Houston area. In terms of tuition and fees, we make every effort to make our school accessible and affordable for all families. Whether your child is currently attending another private, parochial, public, charter, or comes from a homeschooling background, we will work with your family.
Compare Tuition Costs in Houston and Nationwide
Private School tuition and fee costs vary widely in the United States, depending on the region, type of school, and a variety of other factors. Private schools in Houston tend to be in the range of $14,000-$30,000.
In the state of Texas, the highest private day school tuition actually exceeds $40,000 according to Private School Review. With Memorial Private School tuition being roughly half that, we are firmly committed to both access and affordability. One of the many benefits of a micro-school like ours is that we are able to contain costs.
We realize private school affordability is a significant concern for families. Being able to afford tuition requires a careful review of your budget and plans. This includes a review of income and expenses, projected education costs, college savings, retirement plans, and other variables. Feel free to speak openly with us about your circumstances, so we can make an education possible, not only for the first year, but through high school graduation. This is an important investment in your child's future.
Private School Affordability – Tuition Payment Plans
Payment Plan Option: To make us one of the most affordable private schools, we also assist with cash flow for tuition payments. We offer a 5-payment plan, with payments due by the 5th of each Month. There is $250 required finance fee. Payment Plans are for the tuition only, and do not include fees for books, senior fees, or optional credit or extended hour programs. All fee-based programs are due with the first tuition payment. It is our goal to make our school an affordable private school for a broad spectrum of families and payment plans do help.
Memorial Private School – Financial Aid
Financial Aid: Finding an affordable private school in Houston can be challenging. As a micro-school, we are able to keep our expenses low and pass this savings on to families. This is why we are able to offer one of the most affordable private school tuitions in Houston.
To assist with tuition, we ask families to apply for need-based aid early and only if absolutely necessary as our budget is limited.
How to Apply for Financial Assistance
Please do not apply for financial aid until your child has been officially accepted to keep your application "need-blind."
Submit a copy of your official tax returns. If you own a business, provide any schedules.
Provide an email or letter detailing the reasons why you are requesting assistance, including, parties contributing to tuition (parents, grandparents, relatives), health/business/employment loss or issues, number of students in private schools and/or colleges.
Comparing Private School Tuition Costs
Ready for High Outcomes, Low Stress?
Move your life forward in a calm micro-school environment, where you can prepare for college and life! Need more info on how to apply? Need to schedule a campus tour? Contact us to begin the journey.
Questions about Tuition or Financial Aid? Contact Us Today!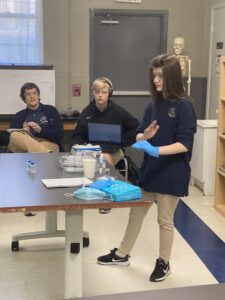 Memorial Private School is a great place to be. The school is small, everyone is nice, and it's easy to learn at the school. — Adam, Student